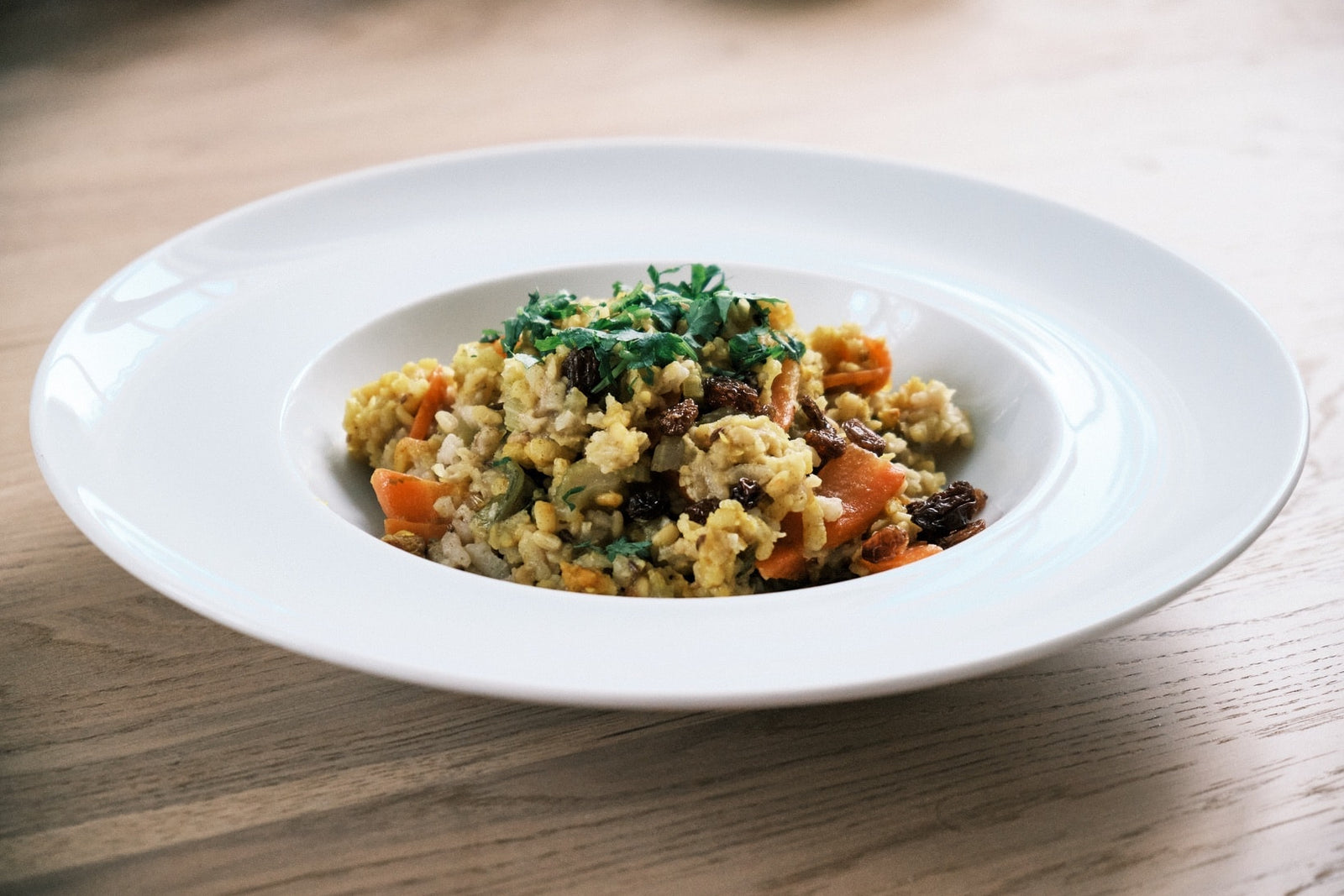 One of my favorite dishes from Ayurveda, or Indian medicine, is easy and nutritious kitchari. This gentle and tasty stew is suitable for everyone and in all seasons. Kitchari is a great meal in autumn, when the body starts to crave warmth and the fridge is bursting with fresh domestic vegetables.  
Kitchari is traditionally made of rice and split mung beans. Ghee and spices play an important role. All the ingredients are stewed in a low heat according to a long formula, so the food becomes very easy to digest. A perfect meal for those suffering from Spleen weakness! Kitchari is also suitable for children and convalescents. 
There are many recipes and kitchari can also be prepared without vegetables. However, spices are important because they support the body's metabolism and open energy channels. Ghee can be replaced with good quality olive oil or coconut oil to make the food vegan.
Here is my own Kitchari recipe:
2 dl organic brown rice (basmati/whole grain also works)
2 dl organic mung Dal (split mung beans)
3 teaspoons of pure alpine ghee
1 tbsp coriander seeds
1 tbsp jeera
1 tbsp garam masala
1 tsp cumin seeds
1 tsp fennel seeds
0.5 tsp ground cloves
1 tsp turmeric
1 teaspoon fresh ginger
Appropriate salt at the end
Heat and "open" the spices in ghee over low heat. Mix the rinsed rice and beans with the spices. Add a bit of water and soak it all the time, mixing it into the rice and beans. Continue this until all the water is absorbed immediately. In between, you can chop up the vegetables.
2 small organic carrots
2 organic celery stalks
A little organic broccoli
Or what you can find in the fridge. 
Add water with the vegetables and leave to simmer for about half an hour under the lid.
Finally, you can add some raisins and nuts to the kitchar if you want. Lemon or lime juice crowns the dish. 
Kitchari brings warmth and energy to digestion. It contains plenty of nutrients in an easily digestible form and also helps our body to be cleansed. In Ayurveda, kitchar is also used as a fasting food. Autumn and winter are, however, the time to save and slow down, so let's make use of the wonderful domestic vegetables with this dish and descend peacefully towards the Yin season. 
---